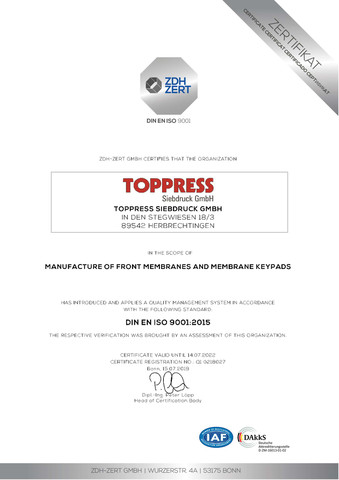 Who are we, what is it that we do, where are we and where do we want to go?
We, the managing partners, founded Toppress Siebdruck GmbH in 2008 and took over further managing the business operations of Toppress Siebdruck Atelier OHG, which was founded in 1975.
We provide the following services to our customers from industry and commerce:
We print and process technical plastic films and plastic sheets.

We print and label plastic parts.

We assemble plastic parts into components.

We finish wiring harnesses.
Our customers see us as a customer-oriented, innovative and flexible company. We provide our services worldwide at a low price, in the necessary quality and correct amount and by the arranged delivery date. Customer expectations are increasingly changing at a rapid pace. These days, the ability to have goods available at any time and anywhere is the sign of quality.
Our customers are increasingly decentralising and individualising their products. Combining these variants leads to increasingly smaller batch sizes. In order for us to continue being able to offer our growing capacities flexibly and at a low price, we keep the complexity of our business and manufacturing processes simple.
With this always at the back of our minds, we are constantly questioning our business model so that we can continue being successful in future. This sustained process of adaptation means we are able to consistently extend our services for our customers.
Our company philosophy: 'Innovation, communication and customer orientation'
Take a look around our website. Get in touch!
Purchasing manager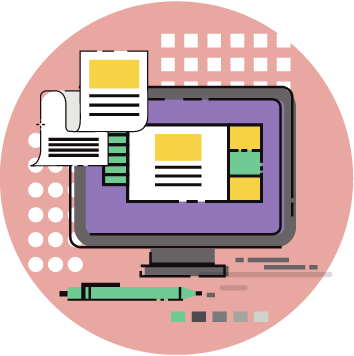 The items we produce are CX items for our customers, so-called bottleneck goods with a low order value. To avoid incurring any additional storage charges, many customers order these items – which are often not kept in stock – on an order basis.
We deliver the right amount at the right time and to the right place so that production is not disrupted. But if there are still unforeseen shortages in our customers' warehouses, then we quickly provide replacements. It may sound trivial, but it isn't, as many purchasing managers have surely experienced themselves.
Every disruption in the supply chain causes subsequent costs and even loss of production, which should be avoided. With our simple business process, we are able to deliver on time and at short notice.
We are in a good position to be able to deliver the right item in the right quality, at a competitive price and at short notice. This is our answer to global supply chains which are increasingly intermeshing. In 2016, we exported 70% of our turnover abroad. Our target countries were Poland, Hungary, China, Switzerland, Austria and Turkey. To not waste any time in the process, we draft the necessary export accompanying documents and goods receipts ourselves. After all, we know that for our customers, every day counts. We work together with logistics service providers, who are some of the most reliable in their industry.
If product quality was the only deciding market advantage up until now, then today it is speed on the market.